Kirkmoor.com ltd Portfolio - Accommodation Websites

From Hotels to Caravan Parks, we have designed and developed and continue to maintain over thirty accommodation websites. Above are some examples. Click on the centred website to visit it in a new window/tab. Continue to search through our Portfolio by category:
Responsive Design Case Study: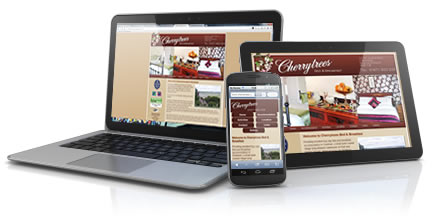 Businesses are switching onto the fact that more and more people are using their mobile phones and tablets to browse the web. Due to broadband speeds continuing to rise, people are less inclined to wait longer than 10 seconds for a page to load. Without having your website optimised for tablets or smartphones, the page loading time will be noticeably longer than when using a desktop computer.
We designed Cherrytrees B&B's website and also optimised it for viewing on tablets and smartphones. For each platform we've condensed the size of the website to fit accordingly to the device so that viewers don't have to zoom in, or scroll from side-to-side to view the site. With a continuing decrease in devices that support Flash, we use alternative ways to display slideshows and animations to ensure all content is visible to all users.
Real-time Availability Calendars & Booking Methods: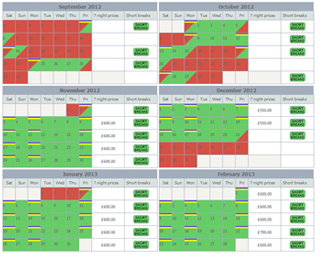 Your website can be more than just a form of advertising; you can use it as a useful tool, allowing you a bit more freedom and flexibility. If you run a Holiday Accommodation business, having online booking on your website can free up your time, taking away the pressure of always having to be by the phone on standby incase any customers call. It also gives more flexibility to your customers in that they don't necessarily have to call and book within working hours.
We designed Galloway Luxury Cottages' website which has an online calendar to show customers which dates are available, and we also incorporated a secure online booking system. This online tool cuts out the middle man and makes booking a holiday simple for the customer.
View Galloway Luxury Cottages' availability calendar here: